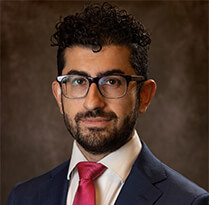 Get to know Pain Management Specialist Dr. Amin Alishahi, who serves patients in Arizona.
More on Spindigit:
(Spin Digit Editorial):- New York City, New York Jun 21, 2022 (Issuewire.com) – Well-versed in the field of pain medicine, Dr. Alishahi is affiliated with AZ Integrated Neuro Spine & Pain, serving patients in Sun City and Sun City West, Arizona. His areas of clinical interest include epidural steroid injections, radiofrequency ablations (RFA's), SI joint injections, spinal cord stimulation, dorsal root ganglion stimulation, kyphoplasty, and shoulder injections, knee injections, hip injections, carpal tunnel injections, occipital nerve blocks, and more.
AZ Integrated Neuro Spine & Pain has been referred to as Arizona's premier comprehensive neurology practice–providing patients with neurological care, pain management, and surgical/non-surgical treatment options for those with issues of the spine. They are a physician-operated practice with a history of providing patients leading-edge, comprehensive care in a warm, friendly, and patient-centric environment.
With the guidance of several role models in his family, Dr. Alishahi decided to become a doctor to give back to the community. He received his undergraduate education at the University of Minnesota where he earned two Bachelor of Science degrees in four years, one in Biology and one in Business. He graduated with his medical degree from the University of Minnesota – Twin Cities in 2013. 
After completing a surgical internship at Vanderbilt University in Nashville, TN, he then completed his residency at the University of Texas – Southwestern. He specialized in anesthesiology, as he liked to guide patients safely through surgery. He also was active in several quality improvement projects in anesthesia, presenting at various anesthesia conferences.
Eventually, Dr. Alishahi completed his fellowship in pain medicine at Oregon Health and Sciences University, where he was noted by patients and staff for his knowledge, compassion, and excellent technique. He chose the subspecialty of pain medicine because he truly enjoyed developing relationships with patients and helping them improve their quality of life and function through a well-rounded approach.
Passionate about his profession, he is board-certified in pain medicine and anesthesiology by the American Board of Anesthesiology (ABA). As the certifying body for anesthesiologists since 1938, the ABA is committed to partnering with physicians to advance the lifelong learning and exceptional patient care. Its mission is to advance the highest standards of the practice of anesthesiology.
Pain management is a branch of medicine employing an interdisciplinary approach for easing suffering and improving the quality of life of those living with chronic pain. A pain management specialist is a doctor who specializes in pain medicine, focusing on the evaluation, treatment, and prevention of pain.
In 2018, Dr. Alishahi moved to Arizona, as his family lives in the Phoenix area. During his free time, he has many outdoor interests, including active involvement in soccer, basketball, and golf. He also enjoys tennis, ping pong, boating, motor racing, and hiking. 
Learn More about Dr. Amin Alishahi:
Through his findatopdoc profile, https://www.findatopdoc.com/doctor/82326312-Amin-Alishahi-Pain-Management-Specialist, or through AZ Integrated Neuro Spine & Pain, https://azintegrated.com/about/
About FindaTopDoc.com
FindaTopDoc is a digital health information company that helps connect patients with local physicians and specialists who accept your insurance. Our goal is to help guide you on your journey towards optimal health by providing you with the know-how to make informed decisions for you and your family.
Media Contact
Your Health Contact
Source :Amin Alishahi, MD
This article was originally published by IssueWire. Read the original article here.