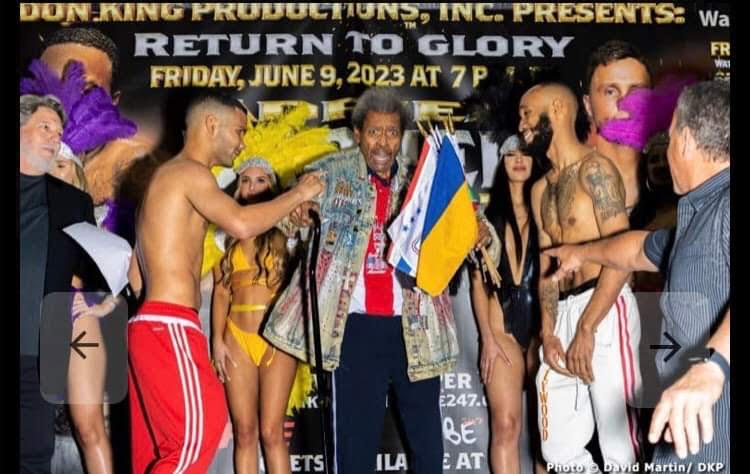 Smith Seeking Rematch with Machado After Fight Ends in 2nd Round in Miami
More on Spindigit:
(Spin Digit Editorial):- New York City, New York Jul 11, 2023 (Issuewire.com) – Ring Kings LLC results for June 9, 2023 in Miami's Boxing card headlined by Adrien Broner. Adrien "The Problem" Broner headlined a 10 round bout against Bill Hutchinson and won by decision. In the co-featured bout there's was a light heavyweight title fight between Ahmed Elbali and Rodolfo Gomez. Ahmed Elbali won by decision. On the undercard was Guillermo Rigondeaux against Julian Evaristo Artules. Rigondeaux KO Artules in the six round.
Adrien Broner and Rigondeaux was not the only one that made fireworks that night. Also in a 10 round bout Smith vs. Machado featherweight contenders. Two Boxer who at the time were signed to boxing promoter Don King. The boxing match ended in the 2nd round.  Fight ended by TKO. Not once did either boxer get knocked down. In a post fight interview Smith he stated "wish the referee would have let us continue I was just feeling him out and was going to come back in the later rounds". Out of nine of Smith fights he has never been knocked down. Smith stated "I'm used to fighting with light heavy weights and always came back in the later rounds. It has never been a problem. Smith has reached out to Machado team seeking a rematch and stated "don't  care about the pay just wants a rematch to finish what I started".   In our interview with Smith he had expressed that he is in boxing to be a world champion and was disappointed it didn't get a chance to go to a decision. Smith stated that the fight has affected him so much that he has not able to sleep.  "I have unfinished business with Machado". Jonathan "Hollywood" Smith now 8-2 fought Neslan "Pitbull" Machado 20-0 on Adrien Broner Undercard. Machado is a former WBC Latino Bantamweight Champion from Miami via Cuba. Smith was born and raised in South Bend, Indiana. Smith was previously undefeated and his last seven fights. Smith has a amateur record of 23-3. Smith stated " I have been waiting for an opportunity like this to showcase my talent. It's a shame it had to end this way". This fight was on PPV. The card took place at the Casino Miami Jai Alai, Miami. Currently both teams are in negotiations for Smith vs. Machado rematch. 
This event, promoted by Hall of Fame Promoter Don "Only in America" King. Can be replayed on your local boxing websites. Don King is planning his next event in September. Fights can be replayed on FITE.com also on dinking.com Fight results can be verified on boxrec.com 
Media Contact
Ring Kings LLC
19176518005
1966 Newbold ave
Source :Ring Kings LLC
This article was originally published by IssueWire. Read the original article here.