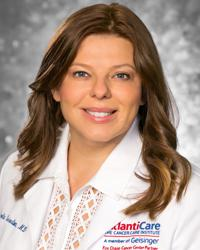 Get to know Hematologist-Oncologist Dr. Loreta Garretson-Vaivilavicius, who serves patients in New Jersey.
More on Spindigit:
(Spin Digit Editorial):- New York City, New York Aug 16, 2022 (Issuewire.com) – A board-certified hematologist-oncologist, Dr. Garretson-Vaivilavicius is affiliated with AtlantiCare Cancer Care Institute – EHT. Additionally, she is a teaching physician to both medical students and residents, and will soon be an associate professor of medicine at Temple University through Fox Chase. Dr. Garretson-Vaivilavicius is also an NCI investigator for clinical trials, which are available through the cancer center with Fox Chase.
"I am successful when I match resources with patient needs. We focus on what we can do, not on what we cannot. I listen and engage them in conversation and they know we are working for them, behind the scenes. We celebrate every small victory to make life happier for each patient. This encourages me and my staff, every day" expressed the doctor.
More people are surviving cancer than ever before, and AtlantiCare Cancer Care Institute is proud to do its part in the South Jersey communities they serve. As a Fox Chase Cancer Center Partner, they offer the full spectrum of cancer care — from prevention and early detection to advanced treatment options and a full range of support services to see patients through. Their dedicated cancer care team is led by some of the region's leading oncologists, known as much for their compassionate care as their skill in fighting cancer.
Academically, Dr. Garretson-Vaivilavicius' appreciation for modern medicine springs from years of going without. She grew up in Lithuania, through the early years of post-Soviet independence where medicine lagged behind. When her grandmother developed cancer, she could not get the level of care that had been standard in the United States for years. They had no estrogen and progesterone receptor testing and struggled to do simple things. That experience shaped her philosophy and her future, inspiring her towards lifting barriers to care. 
After completing her medical education at the Kaunas University of Medicine in 2003, a foreign exchange summer program brought her to Columbia University, and then to St. Michael's Hospital Medical Center in Newark, where she did her residency in internal medicine. There, she also completed a fellowship in hematology/oncology in 2015 and was named Chief third year Fellow.
Subsequent to her education, the doctor attained board certification in hematology, medical oncology, and internal medicine through the American Board of Internal Medicine (ABIM). The ABIM is a physician-led, non-profit, independent evaluation organization driven by doctors who want to achieve higher standards for better care in a rapidly changing world.
Her drive then brought her to rural Kentucky, a tobacco country where cancer is a real problem. She built a hematology/oncology program at Murray Calloway County Hospital, which grew from no patients to over 3,000 in two years. Before area residents had to drive a long distance for cancer care and many did without.
In southern New Jersey, Dr. Garretson-Vaivilavicius finds the same level of challenge and satisfaction. In AtlantiCare, she found similar values and philosophy very close to her heart, providing local care to communities in need.
Hematology is the branch of medicine concerned with the study of the cause, prognosis, treatment, and prevention of diseases related to blood. Oncology is a branch of medicine that deals with the prevention, diagnosis, and treatment of cancer. A hematologist-oncologist is a physician who specializes in the diagnosis, treatment, or prevention of cancer, malignant blood diseases such as leukemia, lymphoma, and multiple myeloma, and blood disorders such as iron-deficiency anemia, clotting abnormalities, hemophilia, sickle-cell disease, and rare hematologic related syndromes, and diseases.
Speaking multiple languages, Dr. Garretson-Vaivilavicius is fluent in English, Lithuanian, Polish, and Russian.
Learn More about Dr. Loreta Garretson-Vaivilavicius:
Through her findatopdoc profile, https://www.findatopdoc.com/doctor/1669146-Loreta-Garretson-hematologist-oncologist-Rochelle-Park-NJ-07662 or through AtlatiCare Cancer Care Institute – ETH, https://providers.atlanticare.org/provider/Loreta+Garretson/1163478
About FindaTopDoc.com
FindaTopDoc is a digital health information company that helps connect patients with local physicians and specialists who accept your insurance. Our goal is to help guide you on your journey towards optimal health by providing you with the know-how to make informed decisions for you and your family.
Media Contact
Your Health Contact
Source :Loreta Garretson-Vaivilavicius, MD
This article was originally published by IssueWire. Read the original article here.