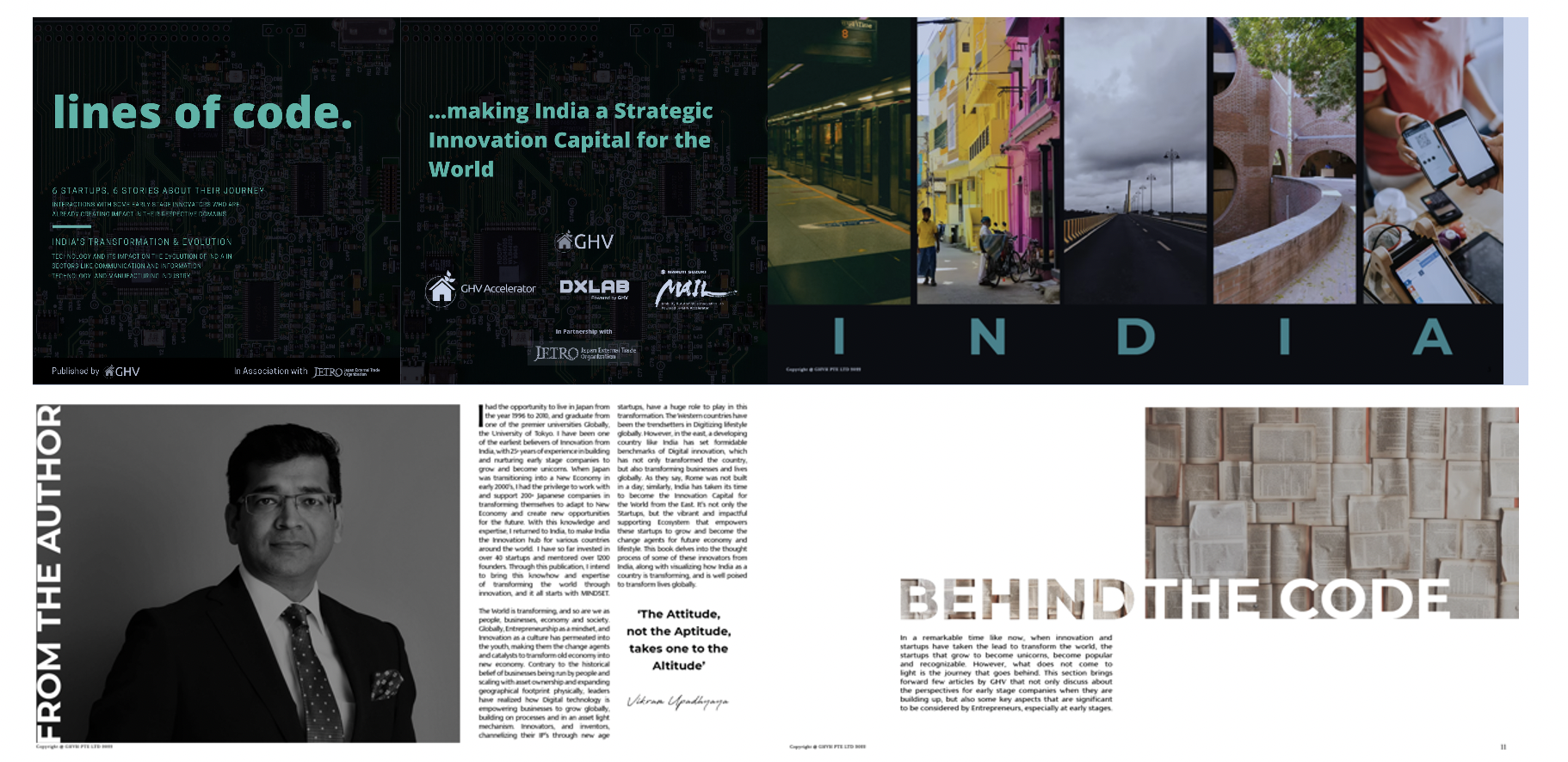 (Spin Digit Editorial):- New Delhi, Delhi Apr 6, 2022 (Issuewire.com) – India is well revered across the globe for being a potential hub for startup companies with more than 60,000 startup organizations. GHV accelerator is a renowned accelerator, VC fund, and operates a Digital Transformation Lab with Enterprises, that offers a strong platform for entrepreneurs to turn their startups into the growth-oriented businesses of tomorrow. GHV has revolutionized its thoughts in association with JETRO India and launched a Coffee Table book offering a view into the Indian Startup Ecosystem, and Indian Entrepreneurs' mindset. The collaborative bonding between India and Japan is quite evident in this book along with a complete guide for the entrepreneurs to climb the steps to success.
The founder of GHV, Mr. Vikram Upadhyaya is well revered for offering the best articles, mentoring, and guidance to startup founders in order to scale their companies into successful businesses. He has spent close to two decades in Japan and helped more than 200+ Japanese companies to adapt to the new economic perspectives. He has also mentored more than 1200 Startup founders. One of the early supporters of Innovation in India, Vikram has more than 25 years of experience in working with Japanese Enterprises. The latest Coffee Table book has captured his vision and represented contemporary references to adapt to the modern economy.
More on Spindigit:
It is not unknown how the global pandemic has changed modern economic dynamics. Mr. Upadhyaya has skillfully penned down the professional and personal side of early-age entrepreneurs along with the hubs of innovation in India, that can enrich the Indo-Japanese venture ecosystem. The world has changed drastically within the span of three years, and most individuals and organizations are trying to adapt to the emerging economic state that is prevailing all over the world. This latest book of GHV is on the pre-text of collaborative opportunities between a developing economy like India, and a developed economy like Japan, and the cross learnings thereby. In association with JETRO, this book is carrying the legacy between the two countries while promoting an impactful business ecosystem for all. Chief Director General of JETRO India, Mr. Yasuyuki Murahashi has shown warm regards and a lot of excitement with the launch of 'Lines of Code'. He believes this book will help other countries including Japan to understand the mindset of Indian innovators and step forward to create more success stories through collaboration.
"This Coffee Table book signifies the deep expertise GHV carries about the Indian Startup Mindset. It would be extremely valuable for Japanese Enterprises to understand this mindset of Indian Entrepreneurs and Innovators, for creating great success stories of collaboration between Indian and Japanese businesses. We, as JETRO is excited to be associated with the launch of this book published by GHV." – Mr. Yasuyuki Murahashi, Chief Director General, JETRO India.
According to Vikram – "It's not only the Startups, but the vibrant and impactful supporting Ecosystem that empowers these startups to grow and become the change agents for future economy and lifestyle."
These words by Mr. Vikram are enough to depict the picture of the geographic hubs of India that turned the country into the Innovation Capital of the Eastern World. With Japan being a part of this journey as well, the profound collaboration of more than 70 years between these two countries is vividly sprawling off the latest Coffee Table Book. Whether it is cultural, economic, or any socio-political aspect; India is has witnessed many joint developments that spread over the infrastructure space as well. Not only global trading but the countries are well connected with cultural match, technology and innovation, intellectual excellence, and almost every other aspect that brings more success and growth.
Investing in over 40 startup companies, Mr. Vikram Upadhyaya has already proved his excellence and foreseeing capabilities through knowledge, wisdom, and experience. The latest book 'Lines of Code' is going to offer a fair share of his visionary to the entrepreneurs to pave their way to success. GHV's Coffee Table book is thriving to change the future.
Visit http://www.ghvaccelerator.com to more about GHV.
Media Contact
GHV Accelerator
9810184350
Source :GHV Accelerator
This article was originally published by IssueWire. Read the original article here.