'No experience, No problem' training initiative to tackle the hospitality skills gap
More on Spindigit:
(Spin Digit Editorial):- Melbourne, Victoria Dec 6, 2021 (Issuewire.com) – The AHA(Vic) tackles the hospitality skills gap with their 'No experience, No problem' training initiative with Typsy.
As we celebrate the reopening of the hospitality industry, we are operating at 60% of our pre-COVID workforce which provides significant operational challenges in meeting the pent-up demand of Victorians.
The AHA(Vic) is tackling the problem head-on by supporting all its member venues with online training for new starters to the industry.
The initiative allows new starters to the hospitality industry to access learning Typsy and learn a sequence of online hospitality courses that are relevant to their job role. This gives new starters some confidence and practical tips from industry experts so they can hit the ground running.
The Australian Hotels Association, Victoria (AHA Vic), and Typsy will offer free-of-charge access for people who are new to the industry to learn online skills.
Two thousand Victorians can gain access to learning key hospitality skills immediately. The initiative will boost the industry through its busy summer season as we respond to the COVID-19 recovery and address the skills shortage.
The need to close the skills gap is urgent and not going away. This calls for new initiatives and innovations for training, upskilling, cross-skilling, and reskilling.
Mike Barouche from AHA(Vic) said, "We wanted to provide an immediate solution to help the industry today. One where owners and managers have the confidence in knowing that those they employ, regardless of experience, are not only motivated to perform at high standards but are also familiar with the fundamental skill sets required to deliver first-class hospitality. We have hand-picked a series of expert-led online hospitality training courses to access via Typsy's user-friendly platform. The entire process is a frictionless, engaging initiative where all staff will receive a certificate for all courses completed so they can improve their skills and confidence".
Jonathan Plowright, CEO, and Founder of Typsy said, "Collaborations like this with AHA(Vic) have been vital to supporting the local hospitality industry in different regions. We have been able to quickly support Governments and Associations that are making a significant impact in building skills capacity. Our ability to rapidly onboard new learners at scale, whilst providing instant access to over 100 expert-led video courses has provided a timely solution to work together in addressing the skills gap".
Felicity Thomlinson, Head of Marketing from Typsy said, "As our courses are online videos, we are able to act immediately to support the hospitality industry with online training. For this initiative, we have created bespoke training playlists to be automatically sent to new starters needing training for a specific job role including bartender, barista, server, kitchen, and housekeeping. They can watch essential courses to give them a great start from Day 1. Learners can build their credentials, their knowledge and increase their job opportunities for the long term".
The 'No experience, No problem' initiative from AHA(Vic) and Typsy will launch today and be available for the first 2,000 applicants who will be able to learn until May next year.
See the announcement: https://www.linkedin.com/posts/mikebarouche_hospitality-training-covidrecovery-activity-6871925404026990592-dkSO
AHA
Press Contact: AHAVic – Mike Barouche 0422 083 527 [email protected]
For more than 150 years AHA (Vic) has provided industry leadership, lobbied on members' behalf, and promoted best practices in hotel management. AHA (Vic) actively contributes to the development and growth of tourism and tourism-related industries. The Australian Hotels Association Victoria (AHA Vic) exists to promote the hotel industry and to protect our members. Being a member of AHA (Vic) ensures that as the business owner you can focus on the hospitality side of your hotel, looking after your customers, providing a welcoming environment and we can take care of the compliance issues. The overarching objective of the AHA (Vic) is to effectively contribute to the establishment and maintenance of an economic and social environment that fosters the business success of members and Victoria pubs and hotels generally. Within the diverse Victorian hospitality industry, AHA (Vic) membership incorporates CBD, metropolitan, regional and rural hotels and pubs, accommodation hotels, resorts.
Typsy
Press Contact: Typsy – Felicity Thomlinson 0429 448 217 [email protected]
Typsy is a Melbourne-based scale-up company, providing expert-led online courses for the hospitality industry globally. The rapidly growing ed-tech company is a leader in online learning worldwide and supports governments, associations, hotels, pubs, restaurants, schools, and individuals with professional development and large-scale skills capacity-building programs.
The Typsy online learning platform has a curated library of over 1000 bite-sized video lessons, courses, quizzes, and certificates. Global adoption has been strong with users watching more than 1.3 million video lessons each month. Whether learners are beginner, intermediate or experienced, there are courses for all, with subtitles in more than 20 languages. Typsy has over 100 expert-led online hospitality courses available from entry-level to advanced.
With the hospitality skills shortage, Typsy is a cost-effective, accessible, and COVID-safe solution to upskill the hospitality industry globally.
Typsy has recently won the International Training and Education Award – Victorian Government & Holon IQ Top50 EdTech platforms AU/NZ 2021 and was also a finalist in the Australian Austrade Export Awards, 2021.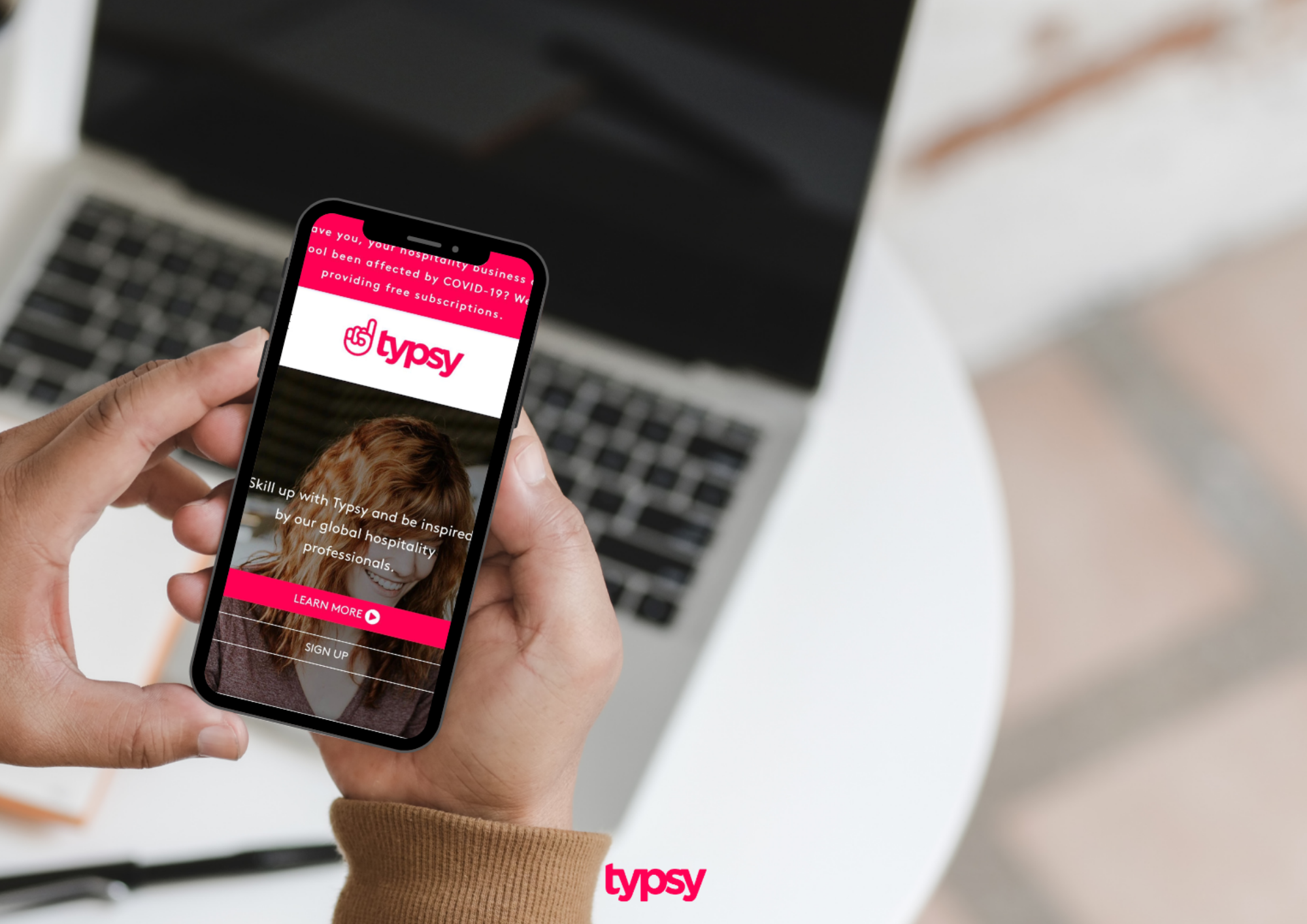 Media Contact
Felicity Thomlinson
0429448217
Level 1, 85 Union Street
Source :Typsy
This article was originally published by IssueWire. Read the original article here.