Leawo shared 30% off coupon code for everyone to get Video Converter in Leawo's October giveaway & special, where iTunes DRM Video Converter is for free and bundles are at up to 50% discount.
More on Spindigit:
(Spin Digit Editorial):- Shenzhen, Guangdong Oct 14, 2021 (Issuewire.com) – Autumn, with its crisp nights, warm wool sweaters, and endless amount of pumpkin-flavored foods, officially begins with the autumnal equinox on Wednesday, September 22. Then the autumn goes further to October. October is a month of sharing. Leawo Software Co., Ltd: a professional multimedia solution provider and an award-winning video/audio converting software supplier, shared 30% off coupon code Video Converter for people to convert video or audio files so that they can view them on other devices in 2021 October Giveaway & Specials. This happy sharing keeps going till October 31st, 2021.
Why Choose Leawo Video Converter?
Video sharing nowadays is normal and with the development of technology, there are more and more file formats available in the market. However, the devices are not able to support all the formats. Therefore, there are lots of customers who complained that they cannot play certain videos on their PC. That's because there are no certain codecs on their PC, which enable people to play the file. Here the Leawo Video Converter comes to help. Leawo Video Converter is designed to convert Video to a wide range of file formats that can be seen from TV to mobile devices.
There is a reliable list of tools in Leawo Video Converter to manipulate your videos, the important one of which is the pre-programmed output configuration file. These profiles allow you to choose from 25 different file formats, so you shouldn't run into any trouble. It also offers more than 100 device optimization profiles, covering everything from smartphones and tablets to gaming systems and set-top boxes. You should find a profile that suits your needs. After conversion, customers can even play the MKV file on Samsung TV and solve problems when they try to play the DAV file on the VLC player. Besides, this program contains one of the best video editors we've seen during our review. It makes it very easy to trim, crop, and flip videos. You can also personalize the final video with watermarks and embedded captions in your output video. The Effects menu controls brightness, contrast, saturation, and volume. In addition, you can convert 2D video to 3D.
Other Preference:
Free iTunes DRM Video Converter. iTunes DRM Video Converters are given out as free giveaways to customers no matter they are regular customers or new customers. All they need to do is to fill in the information to receive the activation code.
Up to 50% off discount bundle. Top seller bundles are sold at discounts ranging from 40% to 50% off.
Other singles are sold at a 30% off discount. All customers need to do is to copy the 30% off site-wide coupon code; choose the desired item on Leawo.org; paste the coupon code to activate it.
Know more details about Leawo Video Converter on the website: https://www.leawo.org/video-converter/
About Leawo Software
Leawo Software is a multimedia software developer dedicated to providing practical and useful software products and services to worldwide media fans. Its products include Blu-ray player, Blu-ray Converter, Blu-ray Creator, Music Recorder, iTunes Cleaner, DVD Converter, DVD Creator, Video Converter, Transfer, and so on for both Win and Mac platforms.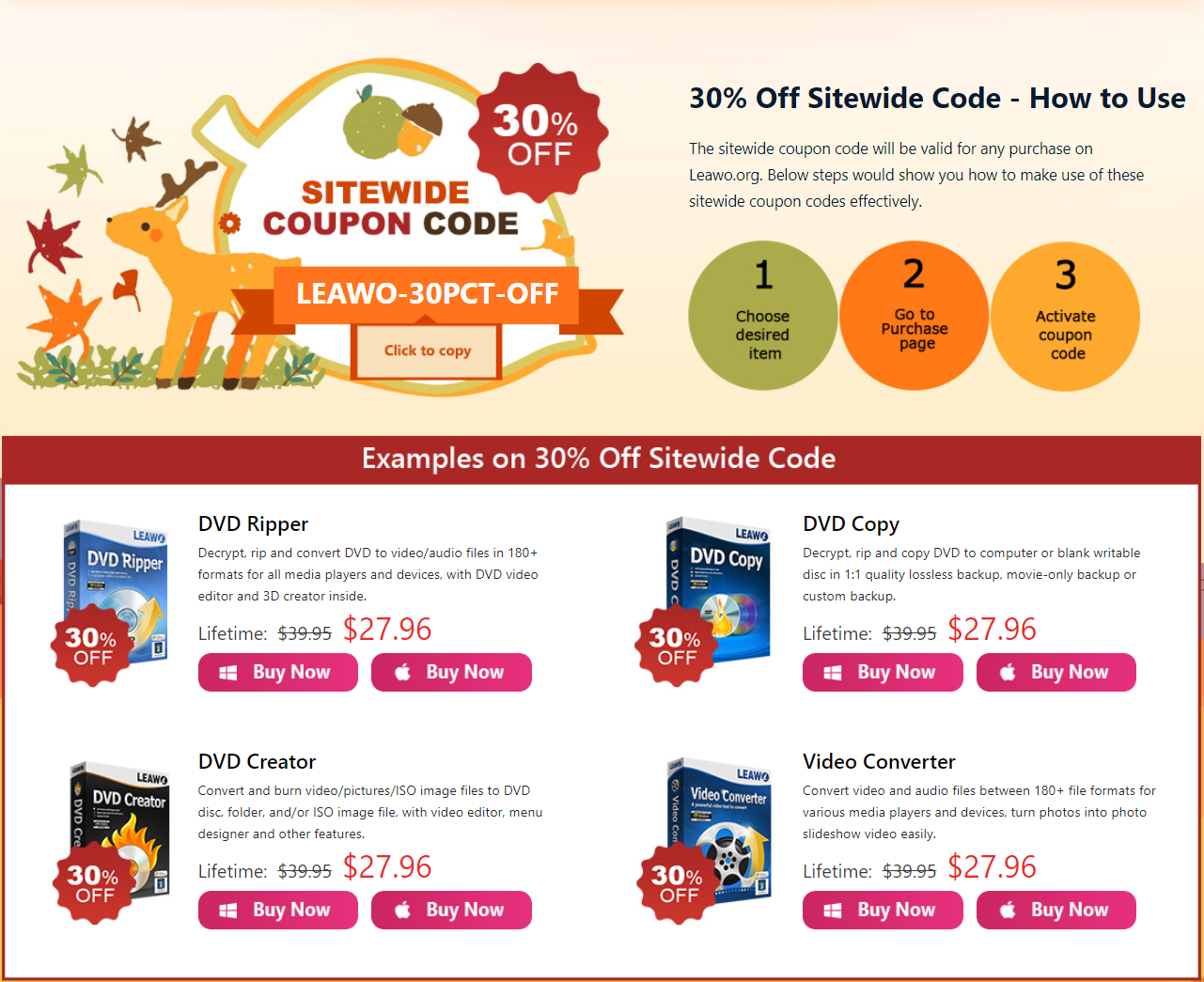 Media Contact
Leawo Software Co., Ltd.
Source :Leawo Software Co., Ltd.
This article was originally published by IssueWire. Read the original article here.