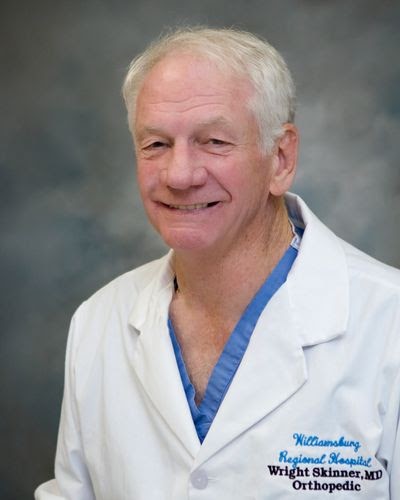 Get to know Orthopedic Surgeon Dr. Wright S. Skinner III, who serves patients in Kingstree, South Carolina.
More on Spindigit:
(Spin Digit Editorial):- New York City, Dec 1, 2020 (Issuewire.com) – As an experienced orthopedic surgeon, Dr. Skinner is qualified to identify and treat trauma to the musculoskeletal system, including the joints, muscles, bones, tendons, and ligaments. He is well known for his development of a minimally invasive knee replacement surgery for Zimmer. 
In practice for over three decades, he can be found on staff at Williamsburg Regional Hospital in Kingstree, South Carolina. It is a fully-accredited, acute care hospital, offering expanded services and technology to the residents of Williamsburg County and the surrounding areas. 
The mission of Williamsburg Regional Hospital is to provide excellence in patient care in an environment that is respectful of others, adaptive to change, accountable for outcomes, and attentive to the needs of the community.
Before embarking on his professional journey, Dr. Skinner III graduated with his Bachelor of Science degree in Biology from The Citadel. He then went on to pursue his medical training, graduating with his medical degree from the Medical University of South Carolina College of Medicine in 1980. Upon graduation, he performed his residencies at the Medical University of South Carolina and the Shriners Hospital for Children.
A Fellow of the American Academy of Orthopedic Surgeons (FAAOS), he is board-certified in orthopedic surgery by the American Board of Orthopedic Surgery (ABOS). The ABOS is an organization with the goal of establishing educational and professional standards for orthopedic residents and surgeons as well as evaluating the qualifications and competence of orthopedic surgeons.
Upon certification, Dr. Skinner practiced as an orthopaedic surgeon at Georgetown Memorial Hospital for 24 years. He is also board-certified in pediatric and adult orthopedics/surgery and is the only physician performing the surgery in his surrounding area.
Orthopedic surgery is the branch of surgery concerned with conditions involving the musculoskeletal system. Orthopedic surgeons use both surgical and non-surgical means to treat musculoskeletal trauma, spine diseases, sports injuries, degenerative diseases, infections, tumors, and congenital disorders.
Learn More about Dr. Wright S. Skinner III:
Through his findatopdoc profile, https://www.findatopdoc.com/doctor/1881934-Wright-Skinner-III-Orthopedist or through Williamsburg Regional Hospital, https://wmbgrh.org/providers 
About FindaTopDoc.com
FindaTopDoc is a digital health information company that helps connect patients with local physicians and specialists who accept your insurance. Our goal is to help guide you on your journey towards optimal health by providing you with the know-how to make informed decisions for you and your family. 
Media Contact
Your Health Contact
Source :Wright S. Skinner III, MD, FAAOS
This article was originally published by IssueWire. Read the original article here.