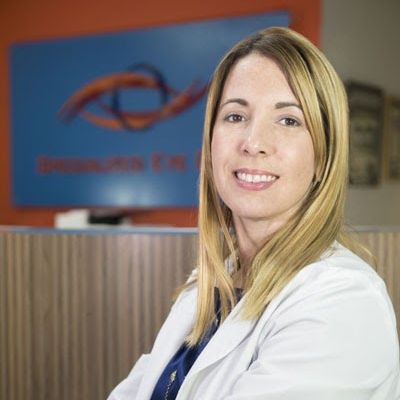 Get to know Ophthalmologist Dr. Elena Jiménez, who serves patients in San Juan, Puerto Rico.
More on Spindigit:
(Spin Digit Editorial):- New York City, Sep 11, 2020 (Issuewire.com) – With an excellent reputation as a gifted cataract and refractive surgeon, Dr. Jiménez specializes in advanced technology intraocular lenses for the correction of Presbyopia and Astigmatism. considered one of the best ophthalmologists in San Juan, Puerto Rico, she founded Specialized Eye Care in 2002.
The company's ideology from the beginning has been to provide its patients the latest technology and surgical techniques for the best ocular health care. Specialized Eye Care offers the following services: cataract surgery, pterygium surgery, keratorefractive, eye exams, glaucoma evaluation, Botox / Juvederm, diabetic eye exam, and opticals services. Patients are provided with all of the newest technological equipment, including the Lenstar, IProfiler, Humphrey Visual Fields, Electronic Medical Records, OCT, and fundus camera. 
During the early years, Dr. Jiménez obtained her medical degree from the University of Puerto Rico School of Medicine. Following her residency in ophthalmology at the University of Puerto Rico, she had the opportunity to work alongside other prominent ophthalmologists in the island, including Dr. Vicente Alcaraz (oculoplastics), Dr. Héctor Mayol, Dr. Juan Nevarez (glaucoma), Dr. Raúl Franceschi (retina), Dra. Nilda Pérez, Dr. Luis Santiago- Cabán (cornea), and Dra. Nannette de León. (glaucoma). Having these professional relationships have enriched her knowledge and expertise within all of the different subspecialties in the field of ophthalmology. 
A leader in the ophthalmic community, Dr. Jiménez has been elected President of the Puerto Rico Ophthalmic Society as well as a member of the Patient Education Committee of the American Academy of Ophthalmology.
The doctor is board-certified in ophthalmology by the American Board of Ophthalmology, an independent, non-profit organization responsible for certifying ophthalmologists in the United States of America.
With a strong commitment to providing patients with the best care, Dr. Jiménez uses the latest surgical equipment and techniques at VISTA Ambulatory Surgical Center, which opened its doors in 2009. She is one of the 12 co-founders of this center and performed the first case when the center opened. Since then, VISTA has become the Center of Excellence for ocular surgery in Puerto Rico and has 24 ophthalmologists within its faculty. 
Ophthalmology is a branch of medicine and surgery, which deals with the diagnosis and treatment of eye disorders. Ophthalmologists are experts in the diseases, functions, and anatomy of the eye. They may provide routine care such as vision testing, as well as prescribe and fit eyeglasses or contact lenses. However, ophthalmologists are also surgeons. They repair traumatic injuries to the eye and perform cataract, glaucoma, and corneal surgery.
Recognized as an authority in her field, Dr. Jiménez has been chosen by her peers for the "Doctors Choice" Award in the field of ophthalmology for the last five consecutive years; has received the "Secretariat Award" given by the American Academy of Ophthalmology for her volunteer work with the Loaíza Cordero Institute for Blind Children, and has gained the trust among some of her colleagues who are no longer performing surgery and refer all their surgical candidates to her. Around 35% of her surgical cases are referrals from other medical doctors. 
Learn More about Dr. Elena Jiménez:
Through her findatopdoc profile, https://www.findatopdoc.com/doctor/584682-Elena-Jimenez-ophthalmologist-San-Juan-PR-00919 or through Specialized Eye Care, https://specializedeyecarepr.com/about-us/
About FindaTopDoc.com
Find aTopDoc is a digital health information company that helps connect patients with local physicians and specialists who accept your insurance. Our goal is to help guide you on your journey towards optimal health by providing you with the know-how to make informed decisions for you and your family.
Media Contact
Your Health Contact
Source :Elena Jiménez, MD
This article was originally published by IssueWire. Read the original article here.